Benefits of feature flags
It is evident that feature management is essential to continuous release and deployment, helping developers and other teams to roll out new features incrementally, turning features on/off and carrying out A/B testing to find what works best without shipping a new version. Essentially, it gives teams more control over the end product and allows them to experiment without risking code roll-back. Here are some of the key advantages of using feature flags: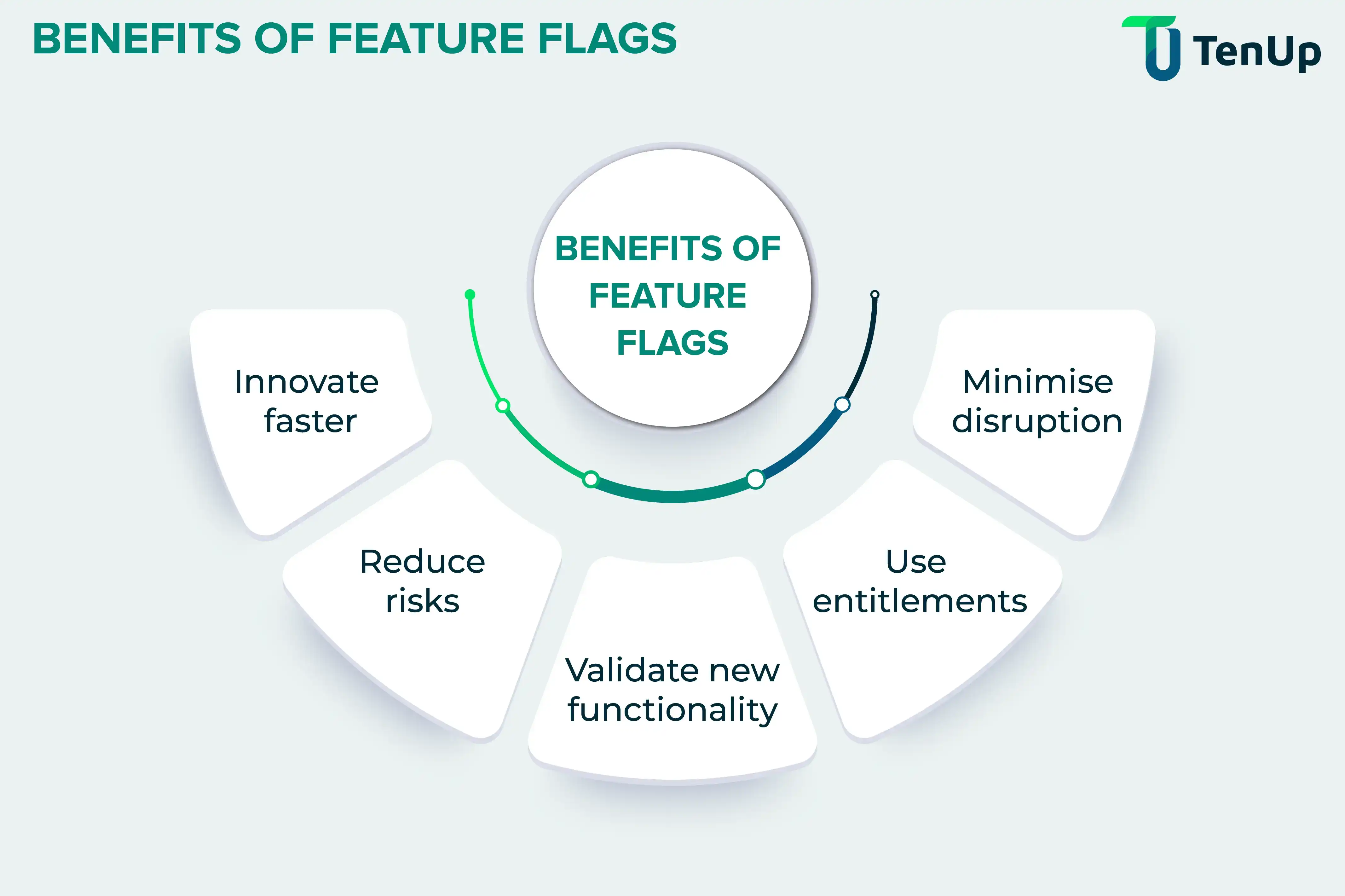 Validate new functionality
Engineers use feature toggles to do 'soft rollouts' for new product features. The feature flag can be set to off by default so that once the code is deployed, the feature remains dormant during production unless activated. Developers choose when to turn the feature flag on, allowing testers to perform QA and feedback on the behaviour. If the team identifies any issue in this phase they can immediately turn off the feature flag to disable new code and minimise the exposure.
Reduce risks
Agile and innovative teams can use feature flags combined with system monitoring and metrics for any observable issues. For instance, if an application witnesses a spike in traffic and the monitoring system reports an uptick in issues, teams can use feature flags to deactivate poorly performing features.
Innovate faster
A great part of building and maintaining successful releases is to find out what works and what doesn't. Experiments are a great way to learn about software, infrastructure, users, and systems. Some of these experiments include techniques such as A/B testing, game days, chaos experiments etc. This helps teams gather new information and innovate faster. Feature flags help developers test different aspects of a feature.
Use entitlements
In software development, entitlement is the right to use services, products, or features that are often provided to a select group of users. Entitlements decide the features that each user can access and those that might be restricted to paid subscribers. Feature flags help organisations to manage and control entitlements. This helps in designing better customer experiences and operational efficiency.
Minimise disruption
Another benefit of feature flags is that they can be used to reduce complex code integration and deployment scenarios. New features and/or sensitive code refactoring can prove to be difficult to integrate into the main production branch, especially when multiple dev teams are working on overlapping parts of the code.
Feature flags help isolate new changes while maintaining the known, stable code. This helps eliminate long-running and multiple-feature branches. When the code is ready to be deployed, there is no need to disrupt with a massive merge; the team can simply toggle the feature flag and enable the new system.