Best Practices for Legacy Modernization and Migration
Legacy modernization and migration can be a complex process that involves transferring data and functionality from outdated systems to modern ones. Therefore, you must follow some best practices to convert these complex processes into simpler ones. Here are some critical best practices that you need to consider.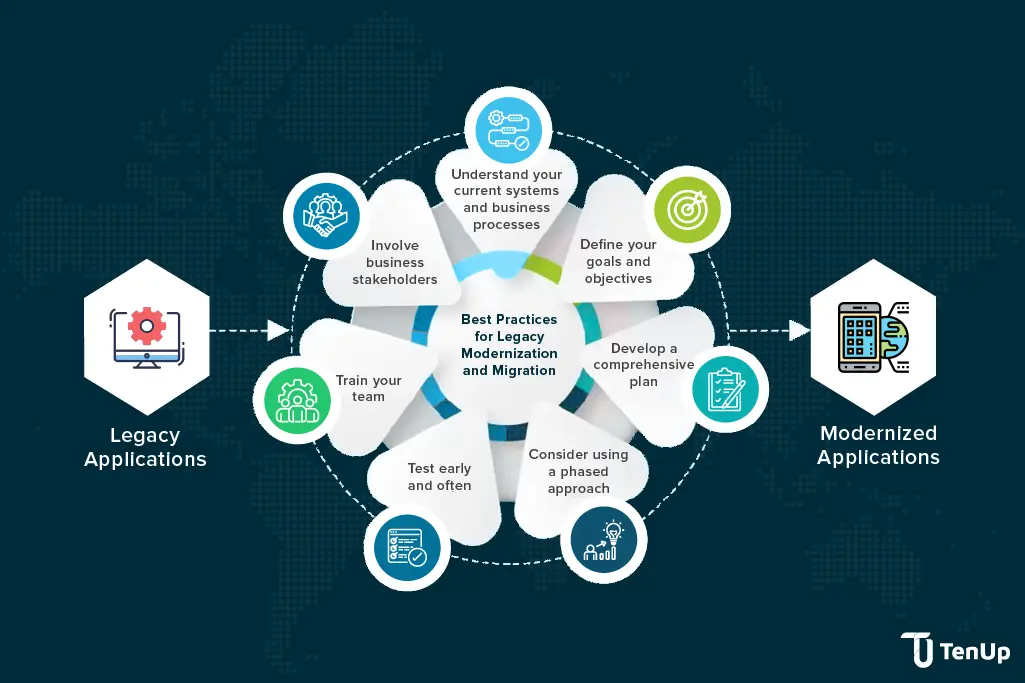 Understand your current systems and business processes.
Before starting a modernization or migration project, you must thoroughly understand your current systems and business processes. This includes identifying all the applications, databases, hardware, and software currently in use and any dependencies or integrations between them. Understanding how data flows through the systems and any enforced business rules is also essential.
Define your goals and objectives
Once you clearly understand your current systems and processes, defining your goals and objectives for the modernization or migration project is essential. This might include improving system performance, enhancing functionality, reducing costs, or improving data quality.
Develop a comprehensive plan.
A comprehensive plan is essential to the success of any modernization or migration project. This plan should include a roadmap for the project, a timeline, a budget, and a risk management strategy. In addition, it's crucial to involve all relevant stakeholders in the planning process, including business users, IT staff, and management.
Consider using a phased approach.
A phased approach to modernization or migration can be a good strategy, particularly for larger or more complex projects. This involves breaking the task into minor phases or stages, each with goals and objectives. This can reduce risk and ensure that progress is being made toward the overall project goals.
Test early and often.
It's important to test early and often to identify issues or bugs before becoming significant problems. This includes testing both the new system and integrations with other systems. Having a plan for addressing issues identified during testing is also important.
Train your team
A successful modernization or migration project requires a skilled and knowledgeable team. Therefore, investing in training your team on the new systems and processes is essential to ensure a smooth transition. This might include providing training on new software or hardware, as well as training on new business processes.
Involve business stakeholders
It's important to involve business stakeholders throughout the modernization or migration project. This includes applying business users in planning and keeping them informed of progress and changes. It's also essential to get feedback from business users on the new systems and procedures and make necessary adjustments based on that feedback.
So, by following these exceptional and proven best practices, organizations can increase their chances of success with legacy modernization and migration projects. It's essential to be thorough, strategic, and collaborative throughout the process and to be prepared to make adjustments as necessary based on feedback and testing results.